Our vinyl job charts are pre-spaced and ready to be applied to any clean smooth surface including wood, walls, mirrors, and windows. Plan and organize your next Family Home Evening with ease!
Chart material ideas:
Apply to wood - sand, paint, and distress!
Apply to chalk boards - easily change names each week with chalk
Apply to dry erase boards
Apply to metal - use magnets to display names or family photos
How do I display the names?
Apply vinyl letter names to wood
Use chalk and pens on chalk boards and dry erase boards
Use magnets to hang family photos instead of names
Write names onto cardstock tags
Example of hanging names with hooks: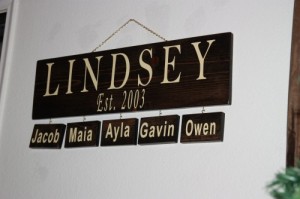 *Additional sizes available,
contact us
for details.